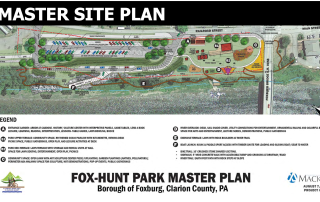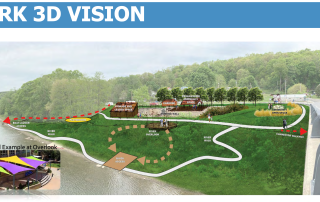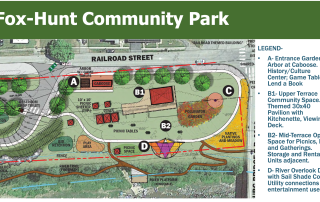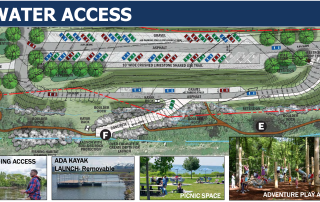 ARTinCC is pleased to invite all interested members of the public to a presentation of a "Preliminary Master Plan" for the Fox-Hunt Community Park in Foxburg. This "open to the public" meeting will take place on Thurs, Sept 21 at 6:30 pm at the Crawford Center (formerly the Emlenton High School) in Emlenton. For the past several years a group of volunteers has been planning and working on the Allegheny River Trail in Clarion County (ARTinCC) connecting Foxburg to Emlenton and, by extension, to Parker. Construction on the full first mile of the bike trail by ARTinCC north of Rt 58 will begin as soon as DCNR sends us the final contract for signature – we have been waiting since Oct 2022, and the contract production is imminent.
In addition to the bike trail and in cooperation with Foxburg Borough, we have received a "Planning Grant" to develop a Community Park at the intersection of Rt 58 and Main St. on land purchased by ARTinCC. The Park Planning Committee has been meeting regularly and soliciting input from some of the key players in the community. Bob Genter and Matt Lokay of Mackin Engineering, based on decades of experience planning such parks, have developed a "Preliminary Master Plan" which they will present for public comment at this meeting.
If you would like to see the park site prior to the meeting, feel free to walk around the area north of the bridge. Several ARTinCC committee members will be available at Foxburg Pizza to show you around the site from 5:00-7:00pm on Wed Sep 20.
Closing the gap in this Rails-to-Trails bike trail and creating this park will connect Parker all the way to Titusville, bringing bikers, hikers, cross country skiers and paddlers to the Tri-Community area. In the immediate future, we will begin implementing a separate $100,000 grant to create about 75 additional parking spots for the trail and shared use by the borough businesses. Also included in this grant is fencing to keep cyclists and hikers safe from the Shoup Trucking Company operations. A new, safe, boat launch is also a high priority.
Our next step is to accept your ideas as additional key players and the general public who will use this park. You can download a pdf of the complete plan here:
As you will learn, there will be many opportunities for volunteers, fundraisers, donors at all levels, and local businesses to supply materials and services. Please look over the plan and come to the meeting prepared to offer your suggestions and your help. This is a huge, long term project and it will take the efforts of many people in the community. Look for us at the Foxburg Festival on Oct 15. We welcome everyone!
Thurs, Sept 21, 6:30pm
Crawford Center
511 Hill St
Emlenton 16373
You can learn more ABOUT us, DONATE, and VOLUNTEER on our website:
And check us out on Facebook:
https://www.facebook.com/groups/artincc.friends
Share This Story, Choose Your Platform!