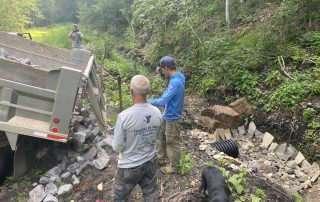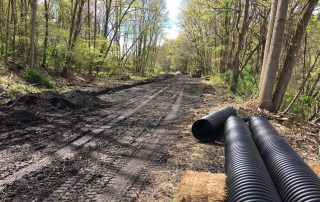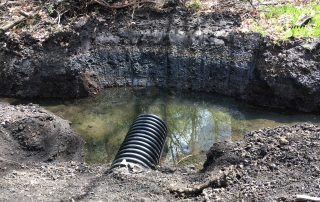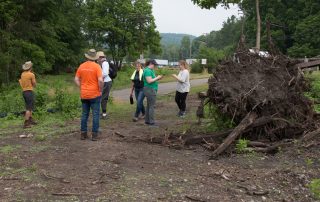 Finally, we got some more work done on the trail! As you may know, earlier this year we dug a drainage ditch all along the base of the hill. We installed new drain pipes across the trail from the ditch to the riverbank. On Thursday Aug 3 we placed rip-rap along the walls of the catch basins for the drain pipes to protect against the sides of the pits from collapsing into the pipes.
One of our board member volunteers, Ed Scurry donated rip-rap for this project. It was delivered to the south parking area where Shoup formerly parked some trailers. Art Steffee came to the workday loaning us his telescoping loader delivered by Tom Hovis. Art also loaned us his excellent operator, Jake Fair. Frank Miller drove Art's dump truck down and all 27 tons of rip-rap were moved to the drain pipes and loaded into the pits with the loader and a lot of manual labor. The usual gang of volunteers were led by Jackson Shoup.
The volunteers who fit us into their busy day were: Dennis Keyes, Ed Scurry, Norma Baum, Tina Prokay, Mel Risinger, Lisa Myers, Josh Wallin and Vickie Persic. The plan was outlined for us by Ron Steffey, who is a professional trail builder. It was great that Ron was available to be on site with more helpful advice. This part of the project is NOT under the DCNR Grant. It is part of the work that we separated out of the Grant scope to keep the request in the $500k range. There is still some work outside the grant to be done. We will schedule another workday soon to trim low hanging branches wherever they may be.
And, we have some great news here. We finally got the necessary red tape cut to get the grant money. Soon we will begin to review the contract with DCNR and begin searching for contractors to build our trail! We will need more administrative help along the way. Here are a few tasks that will need attention. If you have some expertise and want to help, please submit a volunteer form here:
1) Evaluate a published weekly list of funding opportunities for possibilities that might fit for us
2) Input accounts payable data into our online accounting system
3) Manage our donor database
4) Help with maintaining our social media presence and our website
5) Join our fundraising Committee
6) Point people to maintain regular interaction with important politicians
7) Help with administering the planning and building of the Fox-Hunt Municipal Park to be built beside the Rt 58 bridge.
And, as aways, if you are not able to volunteer your time, but want to help, we appreciate all donations which you can make on our website: Donate
We thank all of our volunteers and look forward to getting back to work building the Allegheny River Trail in Clarion County.
Our Facebook GROUP has connections to other trail groups, trail users and friends. It is a friendly place to meet, to share experiences and photos along the trails.
Our Facebook PAGE is designed specifically to inform followers about our current projects, progress and immediate needs and to provide information and links to our website for volunteers, membership, sponsorship and donations. We encourage you to take a few minutes to check us out. If you like what you see, get involved. Volunteer. Donate. Become a member. Become a Sponsor. Welcome everyone! Let's do this!
Share This Story, Choose Your Platform!