Progress Report. Drainage System Installation – May 28, 2023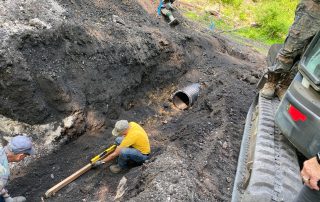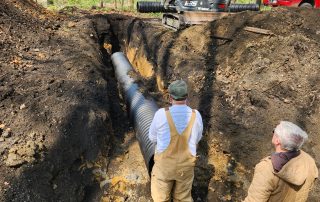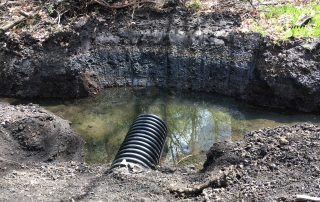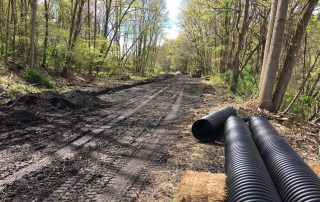 Since late in 2022 ARTinCC volunteers have been working at establishing drainage from the base of the hillside across the trail and to the river. This has been a major undertaking involving digging a trench all along the hillside to carry water to catch basins where 18" pipes will channel the stormwater under the trail to the river's edge. This entire phase of the project was NOT included in the DCNR grant to help fund the trail construction. It was accomplished by our all volunteer army with one paid contractor. ARTinCC hired Ken Wilkinson, an excellent operator, to create some of the trench and dig the cross drains. Jake Fair, working for Dr. Art Steffee gave us volunteer hours to do a lot of the clearing and trenching. All other work was supplied by volunteers led by Heath Neeley who is a retired highway construction engineer. Meticulous attention to detail by Heath's volunteers assured that the pipe installation and compaction over the pipes to avoid any subsidence after the trail is finished is all to spec. We are very grateful to all of those who assisted in this important phase of the project. Thanks to Vern Kern, Doug Bell, Ed Scurry, Gary Rhoades, Norma Baum, Tina Prokay, Bob Jennings, Dave Galbreath, John Soroka and Dennis Keyes.
As soon as we get the go ahead and the money from our DCNR grant, we will begin soliciting bids for the trail construction and fencing. Our second, sideline project, design of a municipal park beside the Foxburg Bridge, is proceeding. We have had several meetings with the Park Planner and some of the key community players. We expect to have a preliminary plan to review with the community within a few weeks. Stay tuned for further developments!
Please consider volunteering work or materials. All donations and members are welcome.
Our Facebook GROUP has connections to other trail groups, trail users and friends. It is a friendly place to meet, to share experiences and photos along the trails.
Our Facebook PAGE is designed specifically to inform followers about our current projects, progress and immediate needs and to provide information and links to our website for volunteers, membership, sponsorship and donations. We encourage you to take a few minutes to check us out. If you like what you see, get involved. VOLUNTEER. DONATE Become a member. Become a Sponsor. Welcome everyone! Let's do this!
Share This Story, Choose Your Platform!